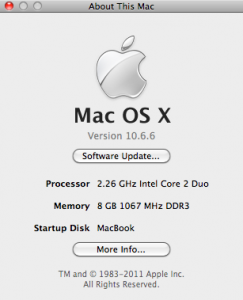 In looking to upgrade my MacBook to a more robust machine (capable of running several VMs without coming to a standstill), I wanted to get the maximum memory possible. Although Apple supports a maximum configuration of 4 GB, I found several references for the 2009+ MacBooks indicating that there was really no reason why the system couldn't work with 8 GB total. Several users indicated that their machines were running fine this way and I decided that it was worth a 20% restocking fee to give it a shot.
I ordered item #CT2KIT51264BC1067 from crucial.com, which is a kit containing a pair of 4 GB, DDR3, PC-8500 memory sticks. These installed perfectly in the machine and resulted in OSX happily reporting 8 GB system memory available. I also have enough memory to comfortably support a Windows 7 or Ubuntu VM running with OS X rather than requiring me to halt all work except on the specific program I need on the VM.
A caveat: be very careful with the screws on the bottom cover. They are easy to lose (I'm short 1 now as I've had the cover off about 3 times). Also, although they appear to be standard Philips (+) screws, they are actually machined screws and you must be very careful with standard screwdrivers as they do not properly contact the screw slots. The correct screwdriver is available but costly, so I used a regular jeweler's Philips screwdriver and a lot of care.
Next time: upgrading from the 250 GB drive to 640 GB (to make room for full-blown Windows 7 and Linux development  environments).